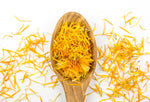 The Magical Calendula Flower
At BeauTeas, we use the finest organic herbs and flowers to create delicious teas for everyone who wants to improve their skin, hair, and overall health. Our new line, Clearly Calendula, contains a variety of teas for any time of day. We can't wait for you to try them!  Do you have questions about how amazing Calendula is, and why is it in our products? Don't just take our word for it — let's talk about this colorful flower's many benefits and rich history.
The History
An ancient plant with many healing benefits, Calendula is a must-have in your beauty routine. It is native to Southern Europe and the Eastern Mediterranean, as well as parts of Asia. It has long been used in tinctures, teas, ointments, and other medicinal forms. The leaves and flowers are edible, and they come in bright colors like pinks, oranges, and yellows. It is not to be confused with Marigold (Tagetes erecta), although the two plants do share the same plant family, Asteracea.
The initial use of this plant is hard to document, as some sources say it was used beginning in the Roman Empire, while others say it was cultivated starting in the 12th century. According to Harvesting History, "The Calendula, also known as Mary-Bud, Mary-Gold, Pot Marigold and Poor Man's Saffron, is one of the oldest of all cultivated flowers," and it was used in the 1800s as a way to stop bleeding from wounds on the battlefield. Talk about plant power!
The flower is so named Calendula, or "the first of the month," because it bloomed on the first of the month in the Roman calendar (Garden Guides). These flowers could be found growing anywhere and were commonly used for cooking, in wines, salads, and other dishes, as well as in everyday medicine. It is considered a 'peasant herb' for this reason. A symbol of sunshine in many cultures, this plant opens its leaves in the morning and follows the sun, much like a sunflower, until mid-afternoon. Some say it helps with communication, particularly in using the right words and the proper tone (The Practical Herbalist).
Spiritual and Religious Uses
Calendula also has a history of spiritual uses. In India, the plant would indicate whether it would rain that day, and it is used today as a way to draw good luck when put under your pillow at night, and to dream of good fortune (Indian Mirror). Calendula is a sacred flower in India and can be found on Hindu deity statues like Lakshmi and Ganesh to honor them. During Día de los Muertos (Day of the Dead), it is placed on home altars in Mexico/Central America, as it was used by the Aztecs and Mayans in sacred ceremonies (Garden Guides). It also was used to draw out evils, and people would hang the flower on doors during plagues in England and other parts of Europe. It is said that looking at this plant removes any trace of evil from the mind. And we agree — it's just so pretty!
Medicinal Benefits
This powerful flower treats inflammation, burns, and minor wounds (Botanical Medicine for Women's Health). Not only that, but it also delivers anti-viral and anti-fungal benefits when used in certain forms, which is why this perennial can help to fight acne and heal or prevent infections after childbirth. How does it do this? A study found that Calendula officinalis affected collagen production and increased certain proteins that affected the inflammatory process. Another study found that the use of Calendula ointment sped up the wound healing process for women who had given birth for the first time. Other research showed that after 3-4 days of using a Calendula tincture, juvenile acne visibly improved.
This flower is a super plant. Apart from inflammation and infection, Calendula is known to soothe the central nervous system, particularly when consumed as an herbal concoction. It is most powerful as an extract mixed into a tincture or salve when applied directly to the skin. Calendula even aids in reducing menstrual irregularities in some homeopathic practices. And this article says that for 81% of women, rubbing Calendula oil onto the stomach can soothe cramps in about 20 minutes because it contains compounds that relax muscles and absorb through the skin quickly. That's faster acting than most over-the-counter pain-relieving medications, which can take 30 minutes to an hour or even longer.
Calendula teas are especially helpful with certain stomach and gastrointestinal issues, such as irritable bowel syndrome and gastritis. It's great for fevers (for young children too), bee and wasp stings, and can be put in baths to strengthen skin and hair because of the way it boosts certain proteins. The plant even has some capabilities as far as protection from free radicals, which with more research could help fight against certain cancers (Many Benefits of Calendula Flower). That is some serious herbal magic.
All This to Say...
It's like this flower was made for women. What other plant can heal your skin, soothe your mind, stop wounds and infections, speed up healing after pregnancy, bring you good luck, and help stop menstrual pain? Sign us up! And with more research, this antioxidant-packed flower (which is already used in many beauty products) may again be a staple in cooking, bathing, and at-home medicine. The number of uses this plant has, combined with its history across continents, speaks volumes about its power and necessity.
We recommend this plant to anyone who wants to seek out homeopathic healing for the skin, especially for acne, sunburns, rashes, sores, and overall strengthening of the skin. As a tea, the Calendula flower has an earthy taste with a bit of spice — refreshing! If you want to add some sweetness to your tea a little honey (which also has incredible skin benefits, beginning with Ancient Egypt) can go a long way.
BeauTeas believes beauty comes from within, which is why we've chosen to include the magical Calendula officinalis in our first line of tasty teas. We hope that you'll join us on the path to feeling beautiful from the inside out. Let's go on this delicious journey together!